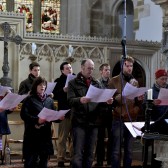 (Released: )

Scholarship and musicality in the service of the Tudor master – Limelight Magazine gives a favourable review of the group's most recent recording release on Hyperion Records:
It seems a miracle that Thomas Tallis was able to survive to the ripe old age of 80 or so during the most turbulent period of English history when the monarchy veered back and forth between Catholicism and Protestantism, successfully piloting his career through those treacherous waters without foundering on the rocks of religious dogma. His ability to trim his sails to the prevailing winds is evident from Andrew Carwood's clever programme of Antiphons, Mass, Anthems and Psalms.   Opening with the lovely Anthem O Lord, give thy Holy Spirit, followed by the parody Mass Salve intemerata, complemented by more anthems and the austere Psalm Domine, quis habitabit, the disc closes with his early Votive Anthiphon, themes of which Tallis re-used for his mass.
The Cardinall's Musick sounds glorious with gleaming sopranos (no breathy boy treble impersonations here), firm and individually characterised voices and a stronger than usual projection. Their warm rich tones are a refreshing change from the cool restraint usually heard here; the slight edge to the choir's timbre clarifies the counterpoint and avoids the over-refinement that can often turn this repertoire into a bland ill-defined soup. This is part of a series so one hopes we don't have to wait too long for another. Carwood's informative essay and Hyperion's refined and detailed sound is icing on the cake. Impeccable.
http://www.limelightmagazine.com.au/Review/371633,tallis-salve-intemerata-the-cardinalls-musickcarwood.aspx