New CD release of Sacred Music by Robert Parsons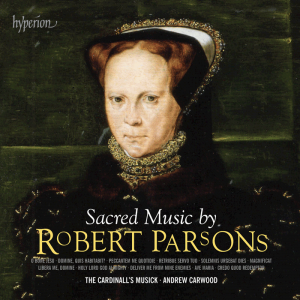 The Cardinall's Musick continue their recording success with their latest disc of the music of Robert Parsons.  Most famous for his setting of the Ave Maria, the recording proves that the composer was far from being a one-hit-wonder!
Fabrice Fitch, writing in Gramophone, says "Carwood and his singers make a case for Parsons… it's worth buying this disc just for this object lesson in word painting….  The Cardinall's Musick are at their best in this repertoire, and their performances have confidence and authority…  Parsons certainly deserves the hearing that Carwood's musicians afford us, so this addition to the catalogue is very valuable".  Editor James Inverne has gone further, making the disc 'Editor's Choice' in the November issue.
In BBC Music Magazine, Kate Bolton give the recording 5 stars, saying: "Having previously explored English polyphony at the extremes of the 16th century – Cornysh, Fayrfax and Ludford at the beginning, Byrd at the end – The Cardinall's Musick now bridges the gap with the enigmatic mid-century composer Robert Parsons.  He lived through some of the most turbulent years of England's religious and political history, and his life was tragically cut short when he drowned at a young age.  So, while there are some serene works here, with soaring melismatic lines that hark back to the music of the Eton Choirbook, most of these pieces are sonorously scored for low voices and peppered with bitter dissonances, giving them a dark, plangent quality.  Director Andrew Carwood draws earthy, visceral performances; the ensemble's virile sound and Parsons's sinewy polyphony are a far cry from what some critics describe as the 'whitewashed', English choral tradition.  Carwood and his singers highlight the inherent drama of Parsons's style, notably in O bone Jesu, with its changing textures, brilliant canons and expressive dissonances.  The basses resonate magnificently in Peccantem me quotidie, in Holy Lord God Almighty and in the hauntingly austere Libera me, while, by contrast, the monumental Magnificat sounds radiant.  Perhaps the crowning glory of the disc is the final Ave Maria, the slow and poignant unfolding of which echoes long in the memory.  Hyperion's detailed recording, swathed in the glowing acoustic of the Fitzalan Chapel, Arundel Castle, enhances these seraphic performances."
Rebecca Taverner from Choir and Organ notes that "the recording has deep perspective and clarity with the sequence of works, mostly scored for low voices, given fluid impassioned readings, with vibrant bass sonorities providing and almost instrumental foundation… tonal beauty, impeccable ensemble and blend".