New Guerrero recording is 'essential listening' – Gramophone Editor's Choice.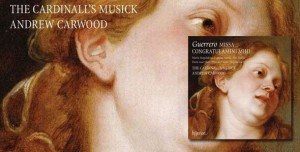 Another wonderfully received Hyperion CD, with The Cardinall's Musick now turning their talents to the Iberian master, Francisco Guerrero with a disc centred around his magnificent Missa Congratulamini mihi.
Gramophone have made it their Editor's Choice in the October issue, editor James Inverne commenting that 'The Cardinall's Musick have only just completed their wonderful Byrd project and here they are with this first-rate exploration of the music of Guerrero … the singers show verve and polish in equal measure'. Reviewer Fabrice Fitch goes on to say 'Andrew Carwood's singers respond with an equal measure of buoyancy and vigour … anyone interested in the siglo de oro will regard this as essential listening'.
Andrew Clements in the Guardian also loves the new recording saying the pieces 'are delivered with the combination of superb ensemble, and perfectly characterised vocal lines that is the persistent hallmark of this outstanding group; the sound is rich, full and gently resonant'.
'the leading exponent of Renaissance music, retaining the essential quality of individual vocal timbres that contribute to a refined, characterful mix and with a polish that is second to none' going on to say that 'the entire disc, with various shorter pieces as complements, is captivating in its fluency and expressive power' Geoffrey Norris (Telegraph).

'sung with breathtaking subtleties of light and shade … do not wait until next Easter to acquire this disc!'Early Music Today
Music-web International have rounded things off commenting that 'Once again we are indebted to Hyperion and the Cardinall's Musick, this time for a fine recording …. The singing, recording and presentation are every bit as good as one would expect from this source'.