"Uplifting" Palestrina and Allegri from The Cardinall's Musick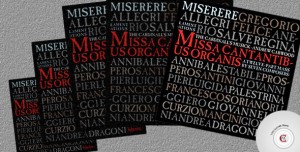 Following their Gramophone Recording of the Year Award for 2010, The Cardinall's Musick's latest CD explores the music of Rome in the 16th and 17th centuries, the group turning its attention to composers including Palestrina and Allegri in the new recording Missa Cantantibus Organis. Directed by Andrew Carwood, the disc is already proving to be one of the finest recordings of the year and generating effusive praise from the critics.
this is all really exciting stuff and should be heard by anybody who cares about music of the late-16th century. David Fallows of Gramophone
Classic FM Magazine made the recording "Editor's choice" saying "Carwood nails it – again" with reviewer Andrew Stewart going on to say that "these performers capture the creative confidence of Rome's composing community in the decades either side of the 16th century's turn" with performances of "exuberance and ensemble excellence… this album works like a finely tuned time machine. It's hard to imagine how its contents could be better served on disc".
Simon Heighes of International Record Review says that the "wonderful build-up in sonority is deftly managed by the singers" with "utter transparency giving way to rich harmony… thoroughly recommended".
Berta Joncus of BBC Music Magazine ("March Choice – Choral & Song") says about The Cardinall's Musick that "the vocalists use declamation to emote, transporting the listener from sorrow to transcendent joy" adding that "this recording's breadth of moods, devices and styles is refreshing".
Stephen Pritchard of The Observer says "The chief delight of this new treasure from The Cardinall's Musick is not the titular Miserere but the Missa Cantantibus Organis, an extraordinary, 12 part mass by seven composers, written as a tribute to Cecilia, patron saint of music … sung here with the brilliance and clarity we have come to expect from this outstanding ensemble".
Claudine Nightingale of Choir&Organ says that "The Cardinall's Musick offers a sumptuous body of sound that revives the well-known Miserere and brings to life the multiple-author Mass".
Paul Gent of The Telegraph says that "The Cardinall's Musick perform it with their usual refinement"
You can hear The Cardinall's Musick performing an exciting Roman programme, including works by Palestrina and Allegri, at the Wigmore Hall on June 24th this year. For more info, visit Wigmore Hall's website.