Inheritance: Vaughan Williams & the Tudors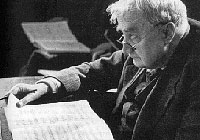 When Ralph Vaughan Williams wrote his Mass in 1922, it was a landmark composition. The first unaccompanied setting since those of the Catholic composers of the 16th century, it evoked the spirit of a bygone age and spoke with a stunning spirituality which captured the attention of all musicians. Here RVW is set in the context of the renaissance masters who helped to create this style. His Mass is interpolated with music by John Taverner, first organist of Christ Church, Oxford whilst in the second half he is joined by Thomas Tallis, the man who inspired his sublime Tallis Fantasia.
This programme celebrating 50 years since RVW's death is also a unique chance for amateur ensembles to work alongside The Cardinall's Musick as it contains the chance for a performance of Tallis's monumental 40-part motet Spem in alium. The Cardinall's Musick will sing 16 of the parts: the remaining 24 parts can be taken by amateur singers. Having prepared the music in advance, they will study the work in an afternoon workshop on the day of the concert and then provide the culmination of the evening.
The Cardinall's have made their mark with the depth of their understanding. Gramophone
Programme Includes
| | |
| --- | --- |
| Christe Jesu, pastor bone | John Taverner |
| Mass in G minor | Ralph Vaughan Williams |
| Mater Christi sanctissima | John Taverner |
| O vos omnes | Ralph Vaughan Williams |
| Spem in alium or Videte miraculum | Thomas Tallis |
Sample Programmes